The Bouclé Collection
Discover sustainability, comfort and design in one exquisite piece. The Bouclé nursing chair embodies care, quality, and conscious living.
Grows with your child
The only Bedside Crib that converts to a Cot Bed and beyond. The patented Serena Cot Bed is uniquely designed to convert from birth to 5 years.
Hera Bedside Crib
Sleep is of the essence for us at Gaia Baby. With the Hera Bedside Crib, it's built in.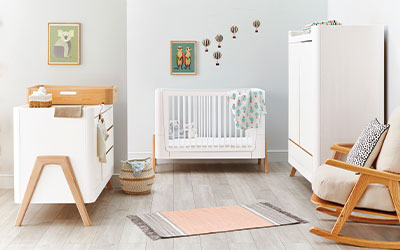 All Gaia Baby Cot Beds convert easily

to Toddler Beds and First Beds.
Real Reviews from Happy Customers
★★★★★

Great product and great customer service. Definitely recommend! I hoovered the while house and my baby fell asleep in the wrap while I was doing it

Amie B.

Bought Carry Baby Wrap
★★★★★

Beautiful products for your nursery!

Easy ordering after trying lots of different sites to order the same nursing chair.
Thank you.

Heather V.

Bought Serena Nursing Chair
★★★★★

We are delighted with our Gaia baby purchase. We find both the cot and the rocker so versatile and the company in general have been a pleasure to deal with.

Dermot Mc.

Bought Serena Cot Bed
★★★★★

Love our rocking chair!

We bought the Gaia baby rocking chair. It's wonderful quality and was delivered really quickly! Super comfortable nursing chair! Would totally recommend!

Megan F.

Bought Serena Nursing chair
★★★★★

Our 2-year-old daughter has been in her Serena complete sleep cot bed since turned 6 months and we have loved it from day 1.
Adjustable and adaptable to her growing development, we will be able to use her cot bed for the next 3 years.
We were drawn to the modern and stylish design.

Daniel H.

Bought Serena Cot Bed
★★★★★

Great company to deal with. We ordered the co-sleeper that turns into a cot. It's a lovely product.

Donald O.

Bought Serena Cot Bed + Bedside Crib
★★★★★

We have the cot, dresser and chair. It looks terrific, beautiful and of very high quality. Delivery was fast and the delivery team were very organised and friendly.

John J.

Bought Serena Room Set
★★★★★

Stunning looking furniture unlike anything else we've seen, looks great in the room. Great service, delivery, assembly and taking away packaging. Really delighted.

David R.

Hera Cot Bed
★★★★★

Just bought the Gaia cots with rocking chair and footstool one word "stunning" everyone who has seen the furniture absolutely love it, to say we are pleased is an understatement. And also the customer service is second to none. 100% recommend to anyone. Thank you yet again!

Jason M.

Bought Serena Room Set
The Hera Collection
Heirloom pieces designed to last beyond childhood. Convertible, timeless and meticulously crafted natural wood furniture.
Meet our Gaia Baby Family
Anastazja Krokos
Anastazja is a mum to two beautiful little girls and her content is lovingly centered around them
@anastasja.and.theo
Olivia Bowen
Mum of Abel, Olivia's nursery has the most gorgeous gender-neutral and calming atmosphere.
@oliviadbowen
Gabriela Sleziak
Gabriela shares snippets of her gorgeous home. Our Hera Collection was the perfect fit for her little one, India.
@gabs.in.the.city
Stay connected with us on Instagram @GaiaBabyNursery
<